Hermetic Canned Pumps
Safe and long-lasting pumps, which can be used for the most extreme applications and conveying hazardous media. Complete reliability – even at the highest pressures and performance levels. They are used whenever conventional technologies reach their limits.
Hermetic canned motor pumps are suitable for fluid temperatures ranging from -160 °C up to +480 °C and system pressures up to 120 MPa. With power outputs from 1 kW to 690 kW, we offer canned motor pumps with the largest capacity on the market.
Traditionally for clean liquids, the conventional method for a pump system with either hazardous liquids, high temperatures or high suction pressures, or a combination of these, has been to utilize double mechanical seal systems (API plan 53b etc). The latter often costs the same or more than the actual pump, in addition to more frequent service intervals required. In addition: the total length of the installation is a challenge.
By utilizing the Hermetic Canned pump solution, the conventional mechanical seal is deleted and the customer gains a pump solution with much higher MTBF (Mean Time Between Failure), as well as a much more compact pump solution as the pump's hydrodynamic bearings are the motor bearings themselves.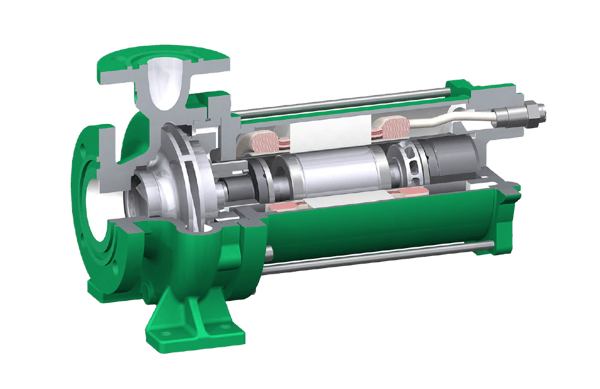 Canned pumps for Oil&Gas Energy
The Traditional Oil&Gas Energy market is looking for more unmanned operations as well much higher MTBF (Mean Time Between Failures) on all rotating units, as the need for reduced OPEX is a key element.
Operational reliability, cost- and functional efficiency is key. In view of the difficulties associated with maintenance of mechanical seals, plant designers and operators have increasingly recognised the advantages of the canned motor pump.
Hermetic pumps are generally less susceptible to repairs than conventional chemical pumps with mechanical seals and thus have a longer service life. As such, in addition to absolute leak tightness and high reliability, hermetic pumps offer the further advantage of minimal maintenance combined with high availability.
Canned motor pumps in accordance with API 685 are used wherever no leakage is allowed and the highest demands are placed on reliability and availability; especially when conveying toxic, explosive and generally environmentally harmful media.
DOWNLOAD
PRODUCT SHEET:
Hermetic Canned Pumps
Fields of application
Sealless pumping technology according to API 685 is ideally suited to the following conveying tasks:
Deadly fluids (lethal service)
Toxic media and substances harmful to health
Flammable, explosive substances
Carcinogenic substances
Transport of hot and cold substances (–120°C to + 450°C)
High vapour and system pressures
CCS & Liquid CO2 Transport
The increasing market for CCS (Carbon Capture&Storage) need reliable pump solutions for pumping of liquid CO2 at typically – 28 ℃.
PG Flow Solutions offer the Hermetic Canned Pump solution for both internal low flow liquid CO2 pumping as well unloading from Industrial plant to Vessel at high flow > 1000 m3/h.
HERMETIC canned motor pumps meet the highest requirements for quality, safety and flexibility, regardless of whether they are used in applications with NH3, CO2, water-glycol mixtures or synthetic oils. Safety and economy are not mutually exclusive.
What to expect:
Leak and maintenance-free pump technology
Long service life and Low operating costs
Spare parts are available for fast and immediate delivery
DOWNLOAD
PRODUCT SHEET:
CCS & Liquid CO2 Transport
Offshore Wind
Wind turbines need a frequency inverter to adapt the resulting frequency to the grid frequency. The conversion process releases a large amount of heat during operation that needs to be dissipated. This is a major problem mainly in offshore installations due to poor accessibility and maintainability.

For this reason, offshore wind turbines often need durable components. A popular design of the cooling unit is the use of a refrigerant consisting of a water-glycol mixture in combination with a canned motor pump.
How can we assist? Contact us for more information on Hermetic Canned pumps.
What to expect
Durable, lightweight unit for cooling converters in wind turbines with a water-glycol mixture
To cool the motor and lubricate the plain bearings, part of the flow is branched off at the periphery of the impeller and, after flowing through the motor, returned to the suction side of the impeller through the hollow shaft. This design is suitable for pumping non-critical liquids with low vapour pressure.
DOWNLOAD
PRODUCT SHEET:
Offshore Wind
Hermetic
Introvideo
Function of a canned motor pump type CNF
Function of a canned motor pump type CNK
Function of a canned motor pump type CAM
Function of a canned motor pump type CAM-Tandem
Function of a canned motor pump type TCNF
DOWNLOAD
PRODUCT SHEET:
Canned Motor Pumps
DOWNLOAD
PRODUCT SHEET:
CCS & Liquid CO2 Transport
DOWNLOAD
PRODUCT SHEET:
Offshore Wind
HERMETIC-Pumpen GmbH
HERMETIC-Pumpen GmbH is a worldwide leading developer and manufacturer of hermetic pump technologies. As a specialist for canned motor pumps, HERMETIC has gained a reputation worldwide for safe and durable pumps - for the most extreme areas of application and most hazardous pumping media.
PG Flow Solutions see the new partnership together with Hermetic as a strategic move towards the 2020's demand for more unmanned operations and not the least the need for lower operating costs throughout the lifetime for the equipment. In addition, the market is moving towards more green energy in which both pumping of CO2 as well auxiliary pump systems for Hydrogen production, comes into play as key factors and where a Canned pump solution is the technically most preferred solution.