Career in PG Flow Solutions
We are always looking to expand our team with motivated and dedicated people.
In PG Flow Solution we have a wide range of experienced and highly motivated workers and trainees.
We need people with passion for their work. People who want to make the future more sustainable and help solving our customers flow challenges. We're committed to each other's well-being, development and team success.
As an employee, you can expect a passionate environment, competent colleagues, and a company that focuses on innovation and sustainable development.
View our vacant positions below for more information on how to apply for a job in PG Flow Solutions.
Trainees
PG Flow Solutions invests in future generations of industry workers, to the long-term benefit of both the company and Norwegian industry. We are always looking to attract new talent to our team.
We are committed to ensuring that we have the necessary competence available for the coming decades. Bringing in young, keen and skilful apprentices is our way of contributing to the continued development of Norway as an industrial nation and the future success of PG Flow Solutions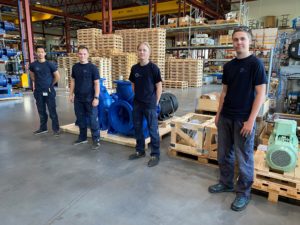 PG Flow Solutions is an approved apprenticeship employer within four different professions:
Industrial mechanics
CNC operator
Automation
Welding and sheet metal work.
For more information about careers in PG Flow Solutions,
please contact Roy Rødningen - post@pg-flowsolutions.com