Three spindle screw pumps
Standard design, individualized customization and custom engineered solutions.
We provide KRAL three spindle screw pumps in various executions, designs and materials with capacities from 5 to 3500 l/min and differential pressures up to 100Bar. Both standard options as well as customer specific designs and solutions.
Compared to other types of pumps, KRAL screw pumps convey a wide variety of media, qualities and viscosities in consistently high quantities, even at high differential pressure. Further advantages are the compact design and the high flexibility.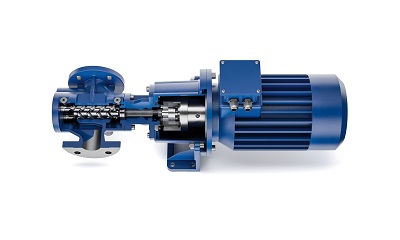 KRAL three spindle screw pumps are self-priming displacement pumps. The specially designed profiles and tight tolerances of the three rotating screws form isolated and sealed chambers. Only through this operational principle can we ensure continuous and smooth pumping without damaging the liquid or creating turbulence.
High flow rates and pressures with a very compact footprint, low pulsation and great control capabilities – these are the clear technical advantages of a screw pump.
All products in acc with ISO and API standards, including NORSOK and bespoke solutions for the OEM market are available.